Business is constantly changing.
Shouldn't you change

with it?

If your goal is growth and success, we're here for you every step of the way.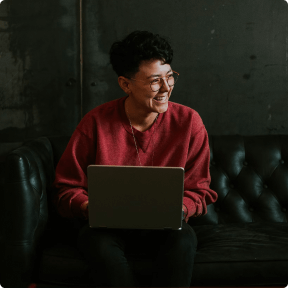 The Universal Professional Self-care platform is your gateway to exceptional professional growth. One online portal, accessible on your Mac, PC, phone, or tablet, gives you access to a world of education, insight, mentorship, and so much more.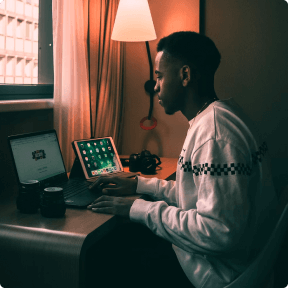 Enroll in a digital marketing class on your own schedule. Level up your social media skills at your own pace. There's no limit to what you can achieve with Universal Professional Self-care.
Our Mission
We're on a mission to deliver an experience that goes above and beyond what other private professional improvement organizations can offer
Business Strategy Webinars
Get Ivy League-inspired business strategy advice from experts who've led billion-dollar companies and achieved their dreams. Immerse yourself in a virtual class with peers at all stages in their career. Our portal includes videoconferencing and whiteboarding to simulate a real-world experience from anywhere. And if you're reviewing our webinars later on, you'll feel like you're there with the power to ask questions along the way. Using advanced AI, we'll source your answer from the recorded webinar, so you'll never miss a beat.

Digital Marketing Classes
Learn how to cut through the clutter in a crowded marketplace, reach new audiences, and tap into big revenue. Our roster of educators includes the Who's Who of Digital Marketing — the titans of Silicon Valley and Madison Avenue. Discover how to blend strategies from traditional advertising with the digital world. Dig deep into some of the biggest mistakes industry heavyweights have made over the last decade. And learn what it takes to thrive and conquer.

Personal Growth Lessons
The best way to grow your business is by identifying personal challenges and tackling them head on. We'll show you how. An exclusive course created by a team of HR professionals and world-renowned psychologists, this hands-on course is designed for those who recognize that they need to take a step back and examine things before taking two steps forward.
Public Speaking Masterclasses
Learn how to command a room and command attention. Designed for everyone, even those who fear speaking in public, this masterclass was created to help even the biggest introvert come out of their shell. While we recommend that you take this course during the scheduled timeslot, you can still find success if you choose to educate yourself at your own pace.

Entrepreneurship Fundamentals
Going it alone? We'll be your guide by showing you what it takes to tap into your entrepreneurial spirit and build something special. Designed for everyone from consultants to inventors to restauranteurs, you'll walk away from this course with the confidence you need to grow your business. You'll also find incredible value in the connections you'll make along the way, should you choose to take this course during the scheduled timeslot with other likeminded entrepreneurs.

Social Media Courses
Find out how to leverage the power of an everchanging social media world. Built for the world of Instagram, TikTok, and whatever's next, this course covers everything from organic marketing on the world's most popular channels to analyzing social media data for smarter marketing spend. This course pairs well with our Digital Marketing Classes.

Our Most Popular Video Materials
Why Us
Those who pretend to know everything really know nothing. It's that philosophy that's inspired us to never stop learning and growing — even as we show others how to learn and grow. At Universal Professional Self-care, we're always adding new content and building new relationships with business experts. Our promise is to bring you the best content from the smartest people. And then to outdo ourselves tomorrow.

What makes Universal Professional Self-care different?
Guidance from business professionals active in Silicon Valley, Wall Street, and Main Street

Instruction from best-selling authors

Live classes and pre-recorded content

Mentorship opportunities with C-Level executives

Guest speakers with inspiring business stories

Learn at your own pace or choose a structured format

Regularly updated webinars
SIGN UP